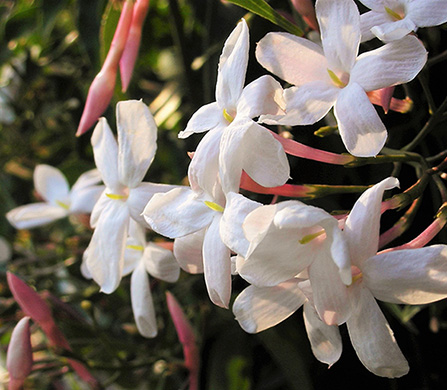 Jasmine Polyanthum Extrait from Enfleurage
Adam Michael has this to say "This material is the most enchanting and soulful floral I have experienced this year. The aroma is a summer breeze of soft, delicate, harmonious, Italian grown, Jasminum polyanthum flowers. The Italian producer in my heart is an artist and this joyous material is a labour of complete dedication and absolute unequivocal love. The result is a spiritually comforting aromatic masterpiece."
The freshly opened flowers only are picked in the evening when their scent is pretty intense and gently laid down on a tray with a very thin layer of wild shea butter smeared on it.The flowers are then allowed on the fat for max 24 hours and then replaced with fresh ones, and this process is repeated at least 20 times. This way the fat absorbs the scent exhaled by the flowers without using any heat that would inevitably damage the most delicate odour compounds.The scented fat (the so-called "pommade", from French) is then washed in food-grade ethanol (96°), shaken daily for 3 weeks until the alcohol is saturated with its scent. Finally the alcohol-fat mixture is drained to remove the now scentless fat, whereas the alcohol gets repeatedly filtered leaving us with the so called "extrait" from enfleurage.
Botanical Name: Jasminum polyanthum
Origin: Italy
Only logged in customers who have purchased this product may leave a review.