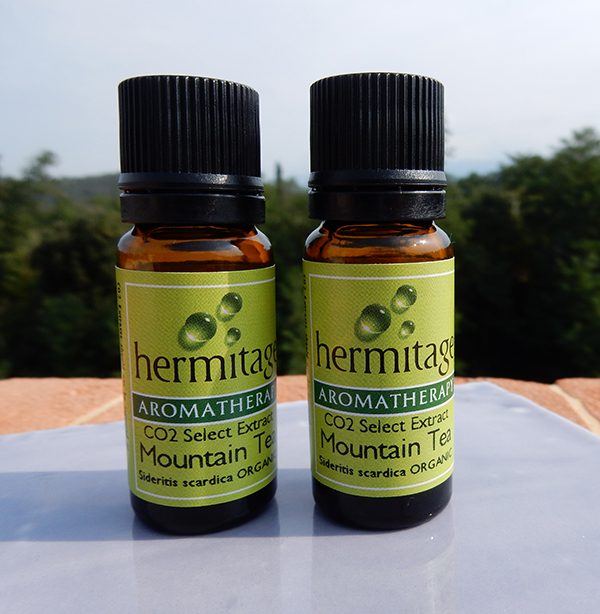 Mountain Tea ORGANIC CO2 (SELECT)
Adam Michael has this to say "This mountain tea CO2 is the tea material I enjoy working with the most but I have to add it is the least characteristically smelling tea material we offer. The aroma is actually somewhat spiced boozy, with a warm, rich-fruits type of belly that is reminiscent of all the cheerful aspects of smelling davana. The aroma also has an obvious wood like character that reminds me of a softer, more mellowed version of oakwood CO2 and also present are chocolate traces which become more intense as the material evolves. Such joyous notes throughout, one for chocolate themed gourmands, works wonderful in booze-spiced vanilla creations, pairs great with oakwood CO2 and offers interesting effects within amber bases."
Mark Evans has this to say "Sideritis bushes grow at high altitude in rough, mountainous terrain in the Southern Mediterranean and the Balkans. One of the many species, Sideritis scardica, is the source of a popular, health-giving and invigorating "shepherd's tea" (actually a tisane) that was considered a great "remedy against trauma from iron weapons". In fact, "sideritis" derives from the Greek word for iron and is also called Ironwort.
This rare mountain tea CO2 extract of this dried herb captures the essence of those wild Greek hillsides and the clean, mountain air with a fresh, spicy tea aroma that includes intriguing aspects of tobacco, camphor and pepper.
As with all tea leaf extracts, this is a top note material which only lasts an hour or two on the blotter but that time is a delightful experience knowing that you are smelling exactly what wounded Greek warriors smelled when sipping their healing ironwort tea or what remote villagers still smell as they sip their shepherd's tea in the cool evenings."
Botanical Name: Sideritis scardica
Origin: Bulgaria
NOP –organic cert. by CERES
Alcohol Soluble: Yes
Select/Total Extract: Select
Only logged in customers who have purchased this product may leave a review.