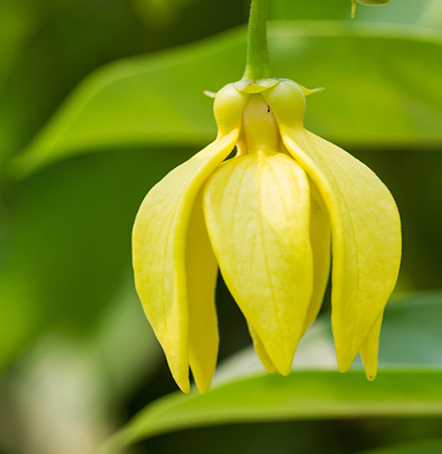 Ylang Ylang Extra
Adam Michael has this to say "The top notes are watery exotic and heady floral, finishing with delicate fruit nuances. The heart and base notes are again warm heady floral with a voluptuous creamy lactonic character and gentle pink pepper spice notes.
The production process of ylang ylang is quite complex and fascinating, so much so I have written an article which you can read here."
Arctander has this to say "Ylang-Ylang Extra is used mainly in high-class perfumes of the floral and heavy-Oriental type, but mere traces of the oil can do wonders in medium-priced floral bases. There is hardly any floral type, where ylang-ylang "extra" would not fit in. The oil blends excellently with bois de rose, vetiver, amyl salicylate, opopanax, bergamot, hydroxycitronellal, mimosa, cassie, methylionones, cinnamic alcohol and esters, benzoates, para cresyl esters (ethers), nerolidol, Peru balsam oil, vertenex HC, etc. and with gardenia bases, stephanotis bases, tuberose bases, etc."
Botanical Name: Cananga odorata var. genuina
Origin: Comoros
Need Bigger Amounts?
This product is now offered in 2 wholesale pack sizes. Prices before vat are as follows – 100G = 100 Euros, 250G = 220 Euros. Prices displayed here do include vat on top – but if you are Europe based (Italy not included) and vat registered, just enter your vat number at checkout and the 22% vat will be deducted. Likewise if you reside in USA, Canada or Russia, you don't need to do anything as the vat is removed at checkout automatically : )
Only logged in customers who have purchased this product may leave a review.