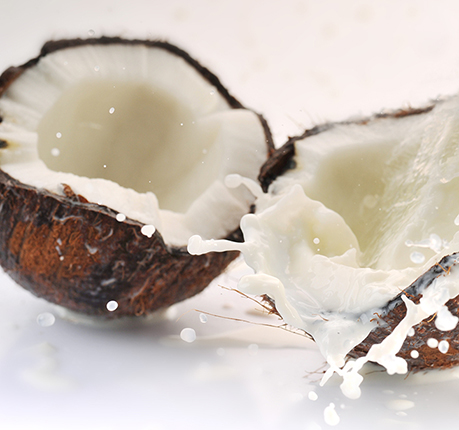 Gamma Octalactone Natural Isolate
Eleonora Scalseggi has this to say "Naturally extracted from coconuts, this Gamma Octalactone Natural Isolate is another delightful lactone that is very close to coconut aldehyde in aroma profile but is sweeter and even fresher and lighter, closer to the heavenly scent of fresh coconut pulp and less reminiscent of the fattier dry coconut flakes.
Used in combination with aldehyde C18 it will help building very true-to-nature coconut accords for tropical-infused perfume accords, but it will also prove invaluable to impart a sweetly ripe note in fruity compositions and to soften the rough edges or other harsh off-notes of your perfume.
Gamma Octalactone Natural Isolate can also work well with other gourmand notes and in particular with our natural coumarin, with which it shares some aromatic features, but it lifts them more towards the head of the composition, whereas the coumarin would tend to sit back with the other base notes.
Like with aldehyde C18, also with Gamma Octalactone a light hand is highly recommended to impart just the right amount of coconut-infused creaminess and sweetness: used in that way it is a truly lovely material and a very useful addition to the perfumer's palette.
Arctander has this to say ".. is a powerful Coconut-coumarinic odour with herbaceous-spicy, almost Caraway-like and warm notes. Slightly greener, but less fatty than the n-Butyl butyrolactone, also more Caraway-like. Moderate tenacity. It does not have the tenacity of Coumarin, but it introduces the olfactory effect "higher" in the fragrance, and may therefore be used as an extender for Coumarin-like effects into the top note of a fragrance. This lactone is used occasionally in perfume compositions as a modifier for Coumarin, and as a sweetener in heavy floral fragrance types, e.g. Gardenia. It gives interesting effects with Opopanax in Lavender compositions, and in Chypre, Fougere, Ambre and Oriental types with Tolu, Peru, Ylang-Ylang, Civet, Ionones, etc."
Extracted from coconut palm

Only logged in customers who have purchased this product may leave a review.