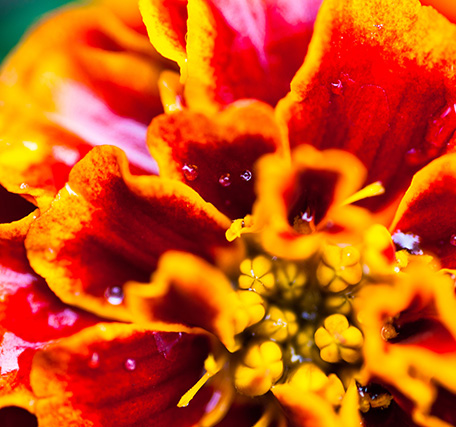 Marigold Tagetes E.O Extra
Adam Michael has this to say "The aroma of marigold tagetes is full of rich saturating character, resinous fruity, fruit boozy and herbaceous floral. Deep yellow to amber in colour, produced by steam distilling both the leaves and flowers and of a pourable viscosity.
Throughout Africa this plant is commonly referred to as 'khaki bush', a weed with deeply divided deep-green feathery leaves and numerous yellowish-orange carnation-like flowers. The leaves and flowers are a good insect repellent and are often seen hanging from native huts to deter swarms of flies and mosquitoes.
The therapeutic properties of marigold tagetes are rather great, anti-microbial, anti-spasmodic, antiseptic, insecticide and sedative. Also used for chest infections, coughs and catarrh, dilating the bronchi, facilitating the flow of mucus and dislodging congestion and can be used in cases of skin infections. It has a healing effect on wounds, cuts, calluses, blisters and bunions.  It is an ingredient of many foot treatment preparations and is also used in some perfumes. The list of therapeutic uses is truly vast."
Botanical Name: Tagetes minuta
Origin: Egypt
Need Bigger Amounts?
This product is now offered in 1 wholesale pack size. Price before vat is as follows – 100G = 55 Euros. Prices displayed here do include vat on top – but if you are Europe based (Italy not included) and vat registered, just enter your vat number at checkout and the 22% vat will be deducted. Likewise if you reside in USA, Canada or Russia, you don't need to do anything as the vat is removed at checkout automatically : )
Only logged in customers who have purchased this product may leave a review.