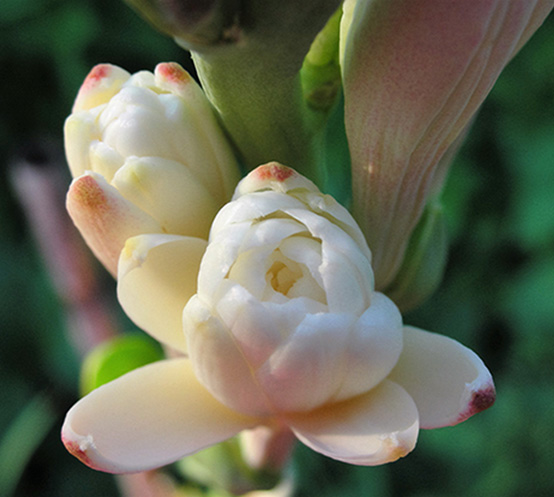 Tuberose extrait from Enfleurage
Adam Michael has this to say "Called 'Mistress of the Night' and believed to be so seductive and arousing that in Victorian times young girls were forbidden to inhale its heady fragrance as it would make them lose their innocence. Tuberose is an outstandingly beautiful flower with a very complex scent that becomes very potent at nightfall.
Its creamy lactonic, elegant white flower notes are entwined with greener and fresher character chiefly due to the presence of salicylates in its aroma profile. Very feminine and very contradictory in my personal opinion, so sumptuously rich and lascivious on the one hand and yet somewhat cold, medicinal and aloof on the other. Obtained from no less than 30 recharges of night time picked flowers, this extrait captures the waft of tuberoses on a dewy late summer's night and is of a much softer and less overwhelming nature compared to the absolute.
Enhances powderiness facets within materials such as tonka bean absolute and iris. Surprises with minute additions of absynthe, pairs beautifully with orange blossom absolute, dances with vanillas, coconut and massoia, imparting tropical breeze qualities. And this material is essential for those trying to reconstruct the head space of tuberose."
Botanical Name: Polianthes tuberosa

Origin: Italy
Only logged in customers who have purchased this product may leave a review.