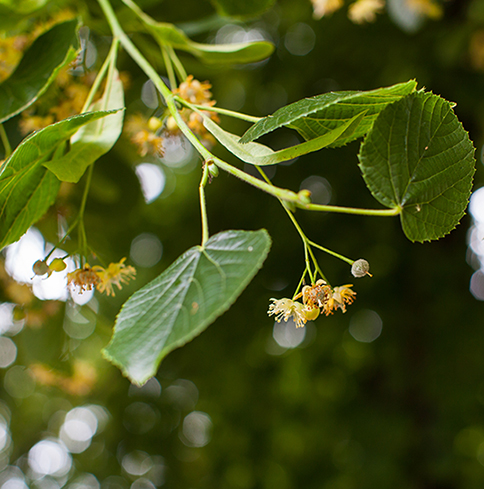 Linden Blossom CO2 ORGANIC
Mark Evans has this to say "We really are spoiled to have a real, purely natural linden blossom flower extract available for us to use now. This linden blossom CO2 extract is an enchanting delight with an odour profile that is the exact replica of the flowers themselves blooming on summer linden trees. The fragrance is deeply narcotic and floral with incredibly rich facets of warmed beeswax and honey, pollen and tea. But that's just the initial impression, beautiful as it is. Keep smelling the blotter and there's notes of tonka bean, violet leaf and chamomile as well as a burning heat, somewhat like chicory. The overall effect is dense and complex, thickly sweet and yet also bitter.
Linden Blossom CO2 would be useful as a top note material as its strength fades pretty quickly to an animalic herbal dry-down. Use it in high class perfumery, herbal and floral bouquets, chypres, fougeres and as a more intense replacement for beeswax or honey absolutes."
Botanical Name: Tilia cordata
Origin: Bulgaria
Select Extract
NOP –organic cert. by CERES
Need Bigger Amounts?
This product is now offered in 2 wholesale pack sizes. Prices before vat are as follows – 100G = 130 Euros, 250G = 280 Euros. Prices displayed here do include vat on top – but if you are Europe based (Italy not included) and vat registered, just enter your vat number at checkout and the 22% vat will be deducted. Likewise if you reside in USA, Canada or Russia, you don't need to do anything as the vat is removed at checkout automatically : )
Only logged in customers who have purchased this product may leave a review.