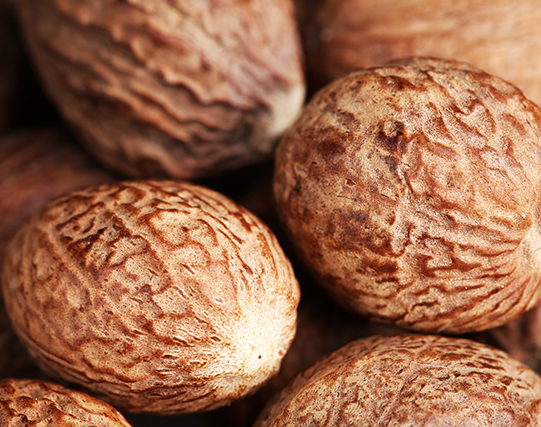 Nutmeg Absolute
Adam Michael has this to say "The aroma of nutmeg absolute is soft, warm, spiced, sweet, slightly woody and powdery throughout. I would describe this as a heart note and the most suitable nutmeg material for perfumery work as it alcohol soluble of course but maybe more importantly it does not deposit the resinous substances that need to be filtered out over time, a problem with the essential oil and especially the co2 extract plus the aroma of this absolute is nothing short of dreamy.
As for uses, sublime material for building Autumnal notes along with leather and animalic bases, pairs really well with oakmoss and spice materials, and this nutmeg provides something truly incredible for black tea accords, brightening the tea notes and imparting warmth and spice that compliments such accords perfectly and only when this material is added below the levels of conscious detection."
Botanical Name: Myristica fragrans Houtt
Origin: India
Need Bigger Amounts?
This product is now offered in 2 wholesale pack sizes. Prices before vat are as follows – 50G = 70 Euros, 100G = 130 Euros. Prices displayed here do include vat on top – but if you are Europe based (Italy not included) and vat registered, just enter your vat number at checkout and the 22% vat will be deducted. Likewise if you reside in USA, Canada or Russia, you don't need to do anything as the vat is removed at checkout automatically : )
Only logged in customers who have purchased this product may leave a review.