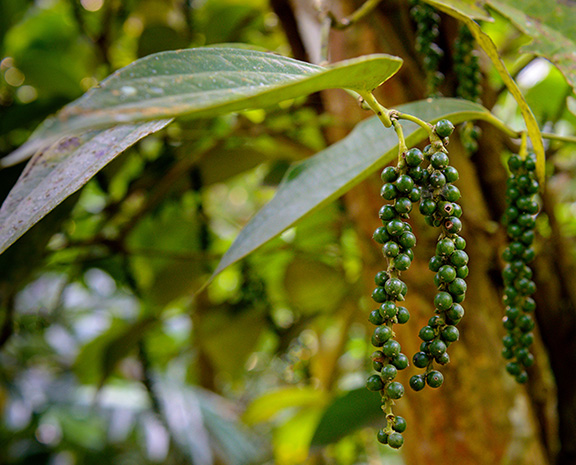 Black Pepper Absolute
Joseph Colbourne has this to say "Black pepper absolute has dimensions that will surprise those who are accustomed to the high-vibration, fleeting punch of the essential oil. This has much more depth and character. It opens with the expected sharp, peppery notes but with leathery yet savory-sweet, mildly floral, agrestic sensations. As it dries in five to fifteen minutes it gets warmer, almost mossy, marine-like, animalic, deep, nuances of tobacco, hay, continued leather, and the beginnings of an oud complement. There's also marked tar-like and cade-like characteristics.
This heart is surprisingly complex: eugenol tones, freshly crushed black pepper berries, barnyards, old leather, peppery oud. These persist into the base with the freshness waning into a smoky, dirty oudy-mossy, leathery, peaty profile. This would be superb with agarwood, smoky blends, oriental accords, leather accords, deep amber bases, tobaccos. A pleasure to experiment with!"
Mark Evans has this to say "There are two main differences between black pepper essential oil and this black pepper absolute from Sri Lanka. The first and most obvious is that whereas the oil is clear and mobile, this absolute is a thick black tar and will need warming and softening before use. The smell also is more sweet, tar-like, smokey and leathery than the oil, while still remaining true to the fresh spicy smell of the dried pepper berries. In natural perfumery, pepper oil and absolute give interesting effects in carnation and rose bases, in Oriental fragrances or in modern, dry-aldehydic bases, ambres etc."
Botanical Name: Piper nigrum
Origin: Sri Lanka
Only logged in customers who have purchased this product may leave a review.