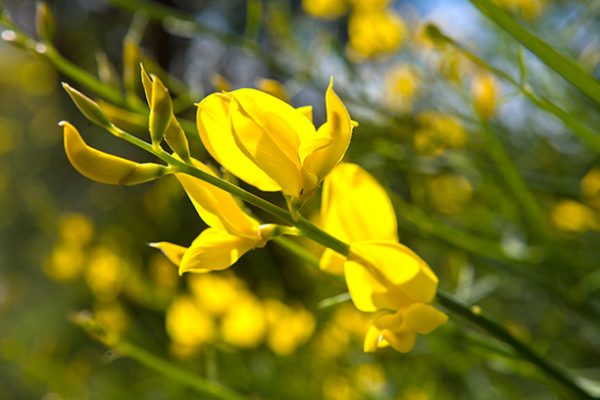 Genet Absolute
Adam Michael has this to say "The aroma of genet absolute is sweet honey floral, fresh tea rose floral, with a joyous dark fruit floral note comparable to orange blossom entwined with hay and tobacco nuances."
Arctander has this to say "The honey-rose notes are particularly useful in certain types of rose bases, tuberose, cassie, mimosa, violet, honeysuckle, etc. It blends excellently with ionones, vetiver, castoreum, etc. in "tabac" notes, and it is generally useful in modern aldehydic perfume types, green notes, etc."
Genet absolute also known as broom is a small decorative shrub that displays small flowers from late spring. The concrete is produced from the fresh flowers and the absolute is obtained by solvent extracting the concrete. This absolute is golden brown in colour and of a waxy consistency that becomes pourable with gentle warmth. The world output of this absolute is less than 200 kilos per year, largely because the bushy shrub consists of lots of thick wood, much of it dead and this makes collecting the flowers very challenging and labour intensive.
Botanical Name: Spartium junceum
Origin: Italy
Only logged in customers who have purchased this product may leave a review.