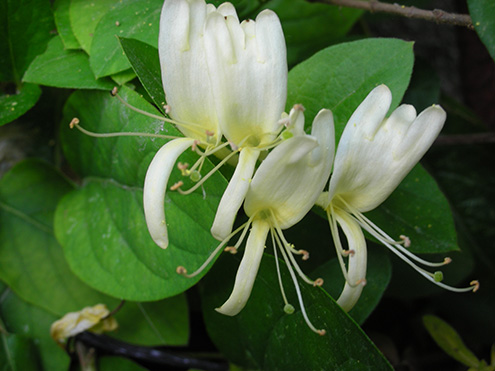 Honeysuckle Extrait from Enfleurage
Adam Michael has this to say "The opening notes are for me exactly like burying my nose into the wild honeysuckle flowers that grow in abundance within my local park every summer.
This floral extrait is wild honeysuckle sweet, with white wine, sparkling apple, linden blossom and elderflower qualities in the top through to dry down. From the middle onwards the honeysuckle sweetness lessens and exudes more of a rich floral, waxy floral character with jasmine tea, matcha green tea and rooibos tea nuances playing harmoniously together in the background. This material also has honey and jasmine qualities and trace notes reminiscent to my nose of smelling barrels made from aged oak wood.
In the ten years in charge of Hermitage Oils I have had the pleasure to smell some truly sublime natural rarities, yet I think this honeysuckle extrait may be the very best natural rarity I have ever smelled to date (05/09/15). Despite being an extrait this material has real longevity and will impart warmth, love and rich white floral character with honeyed sweetness into the top and middle notes of both floral and exotic floral bouquets. Blends harmoniously with linden blossom CO2, jasmine tea CO2, excels at enhancing the honey qualities found within rose otto and orange blossom abs and offers interesting effects within tea and gourmand accords."
Eleonora Scalseggi has this to say "Another very rare material among naturals, unlike the already very rare absolute material this extrait – produced from wild harvested flowers, truly manages to capture the stunning nocturnal fragrance honeysuckle exudes on an early summer's night. Floral, mildly sweet but remaining always very well balanced, with slight woody undertones, it is overall stronger and more long lasting than average extrait materials. A must have material."
Botanical Name: Lonicera caprifolium
Origin: Italy
Only logged in customers who have purchased this product may leave a review.