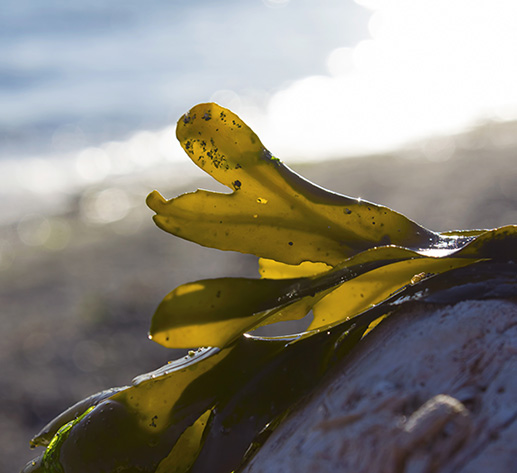 Oarweed MD Absolute
Adam Michael has this to say "The botanical name of this seaweed (loose term) is Laminaria digitata, found within the North Atlantic Ocean. This Oarweed absolute along with the more commonly used (in perfumery) Fucus vesiculosus are both brown algae. However, aromatically they are entirely different. To my nose the opening notes of this material are reminiscent of the smell that greets you when you walk inside a pet shop crossed with the dry mustiness, green and slight vegetative qualities I detect when smelling geranium leaves.
The middle notes are more marine inspired, ambergris, moss, fungal, broken wood washed ashore covered in seaweed and morning salty water. Blends well with mosses – oakmoss, treemoss, cedarmoss, cedarwoods – virginian, texas, atlas, himalayan along with galbanum, labdanum, cypress white, vetiverts, nagarmotha. Provides a substantive, fresh ozonic note where required."
Joseph Colbourne has this to say "The ultimate marine note, oarweed absolute reminds me of exploring the seashore, seeking out starfish and sand dollars. The brine of ocean water and impressions of all that lives in the sea—the fish and various flora, is captured in the opening. As it dries on the mouillette, this evolves into a calmer, smoky aroma of seaweed and driftwood drying in the blazing sun. A clear liquid of pourable viscosity, this absolute demonstrates a longevity of twelve hours. Naturally, this is a winner for marine/aquatic blends and can also enhance oakmoss and other mosses. Furthermore, it can provide unique dimension for leather accords."
Botanical Name: Laminaria digitata
Origin: France
Only logged in customers who have purchased this product may leave a review.