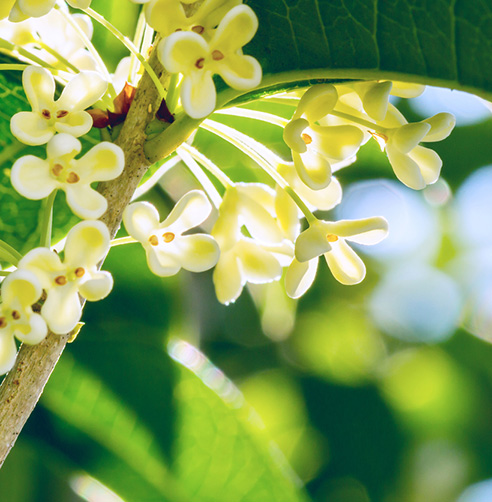 Osmanthus Concrete
Adam Michael has this to say "The opening notes of osmanthus concrete are awash with mouth-watering peach blossoms, juicy apricots, heavenly floral osmanthus warmth and finishing with a truly exquisite aged leather jacket aspect . The middle is soft, warm floral orientated with a bigger dose of leather qualities and tinted with light animalic aspect that I associate with smelling heavily diluted castoreum. The dry down mainly consists of soft yellow fruits and warm leather notes. To sum up this material it is like smelling the absolute but the leather notes in this concrete are pumped up on steroids by comparison.
This material has a very impressive longevity due to its natural waxes content that seem to help anchoring the fragrant compounds to the skin. Not perfectly alcohol soluble, so it will need to be chilled and filtered should you wish to use in alcohol based products. This material is however absolutely invaluable to those producing attars and oil based perfumes, where its natural chemistry can be fully utilised."
Eleonora Scalseggi has this to say "A more masculine version of osmanthus absolute where the yellow fruit-apricoty floral aspect is paired with a very sensual leathery facet, that could work well with pink lotus absolute, mango leaf absolute and castoreum liquid. A waxy creamy dark yellow consistency."
Botanical Name: Osmanthus fragrans L
Origin: China
Only logged in customers who have purchased this product may leave a review.