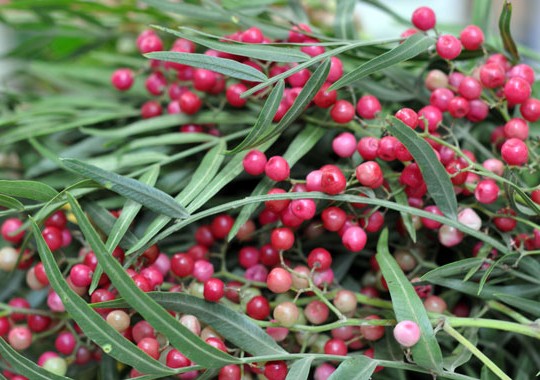 Pink Pepper WILD
Adam Michael has this to say "This Wild Crafted, Pink Pepper Essential Oil is exquisite material, soft peppery, sweet spicy, fruity, a little green and somewhat ylang ylang milk creamy.
In the world of perfumery Pink Pepper Essential Oil imparts a fresh top note within heavy-sweet floral bases, introduces freshness and fixation within lavender colognes, fougeres, spicy colognes and floral bouquets and pairs very well with frankincense and elemi materials. Pink pepper (Schinus molle) is of no relation to green, black or white pepper oils (Piper nigrum). Clear in colour, produced by steam distilling the berries and of a pourable viscosity."
Botanical Name: Schinus molle
Origin: USA 
Need Bigger Amounts?
This product is now offered in 1 wholesale pack size. Price before vat is as follows – 250G = 130 Euros. Prices displayed here do include vat on top – but if you are Europe based (Italy not included) and vat registered, just enter your vat number at checkout and the 22% vat will be deducted. Likewise if you reside in USA, Canada or Russia, you don't need to do anything as the vat is removed at checkout automatically : )
Only logged in customers who have purchased this product may leave a review.